In Philly and few other places, when you recycle, Recyclebank rewards you with points that can be redeemed for stuff. Being rewarded with stuff for increasing your rate of recycling is a great idea but one that has always sort of niggled at me. Shouldn't we all be reducing consumption and reducing the amount of stuff we discard?
Because of this niggling I never redeemed any points – and now I am very glad because Recyclebank has started the Green School program that lets you donate those points to selected school environmental projects. Yahoo! I can recycle, earn points, help out a school project and feel good all around. How can you help a school?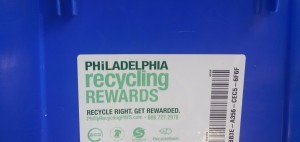 If you haven't already – join Recyclebank.  Use this code and I will earn points to donate to my favorite school project and you will start earning points too: https://rcycle.info/4dz8f
Contact your neighborhood association for a recycling bin or two or three, check out GreenBeams's great guide to recycling and if you need even more info, check out the city's info.
Recycle.
Check out the Green School program, click on donate points and a list of projects will appear; Scroll down, read about them and then donate your points. Right now there are about 16 school projects in Philadelphia to choose from. Your points turn into cash for the school.
Donate your points.   We selected Central High School's Hydro-Engineering for Sustainability project and donated 3600 points so far! Right now the school has 74% of the needed funds from 200 Recyclebankers!
Play the learning games on Recyclebank and earn even more points to donate to the school of your choice.
Keep recycling.
This is one of those times when it is truly a win-win-win. Win: Your recycling creates a saleable product for the city that reduces waste disposal costs for all of us. Win: your recycling reduces the need for landfill space and reduces the pressure of waste on the environment. And Win: Your recycling easily wins points and supports the students and schools in our community.
Recycling is easy and rewarding. Sign up today and start earning.
{ 0 comments }