I rode my bike over to Home Depot the other day. Instead of battling the traffic along S. Columbus Blvd (there is a bike lane but it can be very intimidating), I rode along the Washington Avenue Green trail and discovered the new Pier 68 park. . What a beautiful place to watch the birds, the river, the sky and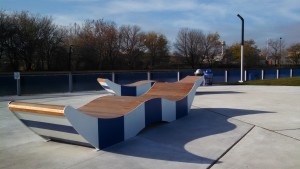 surprisingly, enjoy the quiet on big, comfy, wave like benches. A few months ago I was in The Challenge Program shop watching the team craft those same benches from some of the most beautiful wood I have ever seen – it is great to see their handiwork at work in the park.
The Washington Ave Green trail runs from the east end of Washington Street (the entrance is directly to the right of the US Coast Guard fence) and runs along the Delaware River to the Home Depot/ Walmart parking lot. It is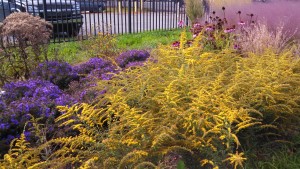 short – just 0.7 miles long – but it takes you away from the city into nature.
Along the way is the Washington Avenue Pier (aka Pier 53)  that features wetland restoration and native plant landscaping, interpretative signage that puts the pier in historical context and helps you identify raptors!, spectacular views, a place to stick your toes in the water, and the climbable 55' public art piece 'Land Buoy'.
The area around the trail is in transition from refuse ridden forgotten land to open parks. Natural Lands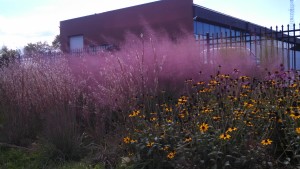 Trust and Delaware River Waterfront Corporation (DRWC) recently acquired an additional 9.5 acres near Pier 53 which includes Pier 56 (just south of Pier 53), the riparian rights and 100' deep swath of the mainland for restoration. The clean up job is intense. I watched a crew drag whole, burned out carcasses of cars and trucks off of Pier 56 and haul them away leaving behind beauty and opportunity for nature driven public space.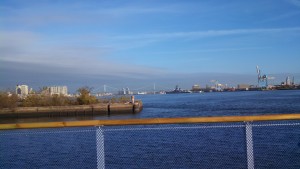 At its southern end the trail turns into a bike lane on the road that rings around Wal-Mart. This road is used mostly for employee parking and by trucks waiting to make deliveries so, be aware but don't worry too much about traffic. About 150 yards along on the left is Pier 68. Where Pier 53 celebrates wetland diversity and history, Pier 68 celebrates the wide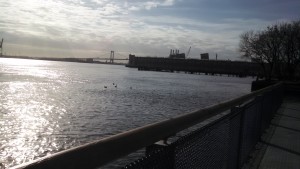 open expanses of the river. The DRWC explains it well, "this space serves as a resting spot for those using the trail and as a place where shopping center visitors can quickly experience the Pier Park." It is an open, airy, clean looking space that is a delight and provides a breath of fresh air.
The long term vision is to have a continuous trail along the river from Oregon Avenue in South Philly to Allegheny Avenue in the Lower Northeast. For further reading see: http://planphilly.com/articles/2015/03/18/waterfront-corporation-to-obtain-more-south-philly-land-for-river-trail
{ 0 comments }