We did it! We moved from the bucolic countryside of Kennett Square into the heart of Bella Vista in Philad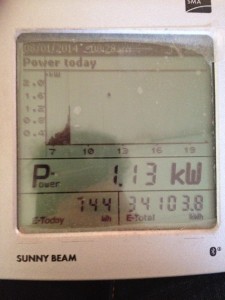 elphia.  From a two story, net zero, development house to a 4-5 story townhouse. From an overflowing, garden filled property to a patch of concrete.  Now that is completely different.  Something different filled with opportunity to explore new places, meet new people and work with a property that offers many sustainability challenges.
We took our last solar reading on August 1st.  Total production since January 2010 was a whopping 34,103 kWh! We have no solar plant here in Philly but hopefully will someday in the future.
In the meantime we will focus on getting to know this house, measuring it's usage, and developing a plan to save on utilities while maximizing comfort. Right off the bat we have reduced our carbon footprint by leaving the car behind and walking everywhere – the grocery, the doctor's office, work, shopping and dinners out on the town.  We have found a place to hang the wash out to dry and it is smelling as great as it did in the country. And we have filled pots with plants and just picked our first strawberry.
Stay tuned as we get settled in as sustainability minded city folk.
{ 0 comments }