Did you know that every time you plug in your laptop, charge your iPod or turn on a light that you are buying electricity?  It is just like buying a pair of jeans or downloading music from iTunes except it is not as easy to see and measure.  It is also a totally different language.
When you buy jeans or music or a latte you get a tangible item for some amount of money.  When you buy electricity, you buy by a kilowatt hour or kWh.  That means for every 1,000 watts of power you use you pay a certain amount of money.  In my area that is about $0.14 per kWh.  It doesn't seem like a lot but it adds up.  Don't believe me, take a look at your electric bill this month.
So what's a watt?
Watts are a power measure that rate energy flows just like gallons per minute measures water flow. A kWh is the amount of energy you use to run something.  It is the price tag for electricity.
For example, if you want to water the garden, you turn on the spigot and gallons of water flow out of the hose. When you get your water bill the cost is based on total gallons.  If you want to charge your cell phone, you plug it in and watts of energy flow out of the outlet. When you get your electric bill the total watts are billed in kWh.
kWh is calculated by multiplying watts times hours.  For example, a 60-watt incandescent lightbulb consumes electricity at a rate of 60 watts/hour.  If it burns for 2 hours the kWh would be: 60 watts x 2 hours = 120 watts/hour or .120 kWh.  The electric bill would be calculated as: .120 kWh x your rate.  In my case that would be .120 kWh x $0.14 =  $0.0168 or $0.02 for the two hours of light.
Keep an eye on those watts.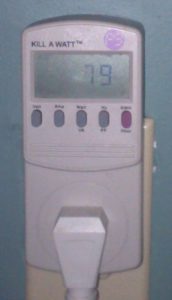 It's easy to see water – there it is flowing out of the faucet.  But electricity?  How do you see the flow of electricity? A Kill-A-Watt meter is a little device that lets you 'see' the flow of electricity at the point of use – the outlet.
What can you do to save on electricity?
Get to know your electric bill, buy a Kill-A-Watt and then..
Go around and unplug stuff that draws power all the time. That includes anything with an LED read out and cell phone chargers, computers, printers, television sets and their ancillary equipment.  Remember, if the charger is plugged in it uses power EVEN IF the computer, iPod, cell phone is not attached!
Start an energy savings contest with your friends – compare electric bills and make a bet who can reduce their usage the most – compare bills over a few months and get the winner to buy everyone a beer with the money they saved!
Know that you have the power to pull the plug.
{ 0 comments }