The Wall Street Journal ran an article on May 3, 2013 entitled "Stealthy Green Homes". In that article they highlighted homes that are comfortable, healthy and at or near net zero energy.  All of the featured homes were new and all were specially designed to be 'green'.   I think it would have been more stealthy if they had written about my house – it is a truly stealthy, net zero house set in a typical American development.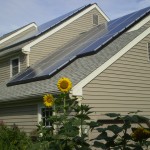 Our house is nothing special.  It is a typical, 4 bedroom, 2 -1/2 bath, development house with wood siding and a nice yard.  What makes it special? Our house generates a lot more power than it uses – our house is a net zero energy house – in fact it is a net generator of electricity.  We installed a 6kW photovoltaic (solar) system on our roof just before Christmas in 2009 and turned it on in January of 2010.  Since that time there have been 6 months where we used more power than we produced and 34 months of positive sales to our energy provider, PECO.
We heat our house with natural gas so to calculate usage we have converted cubic feet of gas to kWh.

Before the contractor installed our PV system, he reviewed five years worth of our utility consumption and together we calculated that a 5kW system would just meet our needs most of the time and that a 6kW system would probably be a net generator most of the time.  The calculations showed that the 6kW total would be near net zero.  He calculated that given our consumption patterns the payback would be between 8 and 10 years.  As you can see in the above, on an annual basis (dark green), the system has been a net generator for all four years.  We are happy to report that we have just celebrated the full payback on the system in April – just about 3-1/2 years since installation.  That is pretty darn good.  From now on we won't be paying ourselves back, we will be earning money from being an electricity producer.
In a house like ours, just installing PV on the roof doesn't make for a quick return or even net-zero results.  There are two keys to success:
Conscious Consumption of Utilities
and Strategic Renovations
Last month I wrote about the neighbor who expressed interest in installing PV at his house and I said, "Of course, the more you conserve, the better your return will be; living with solar makes you more aware of your consumption patterns."  Even without the solar part, being conscious of your demand patterns will make a big impact on your utility bill.  My neighbor was dismissive – conscious consumption is too much work – I never thought switching off a light was that much work.
Strategic Renovations can be a lot of work.  There are many articles out there about deep energy retrofits that would scare most folk away from green renovations – that kind of work can be expensive and difficult – it also may be appropriate in some cases.  An easy start?
Next time you change out an appliance look for the EnergyStar and WaterSense labels to find energy efficient and water savvy units.
Next time you are in the market for a new heater make sure it has the highest efficiency rating you can afford.
Find out how much insulation you have in spaces you can get to – especially the attic and the basement.  You may want to add more.
Properly seal up openings to the attic especially around recessed lights and insulate any hatches or pull down stairs.
Seal up and insulate your rim joist.
Lower the temperature setting on the thermostat in the winter and raise it in the summer – two degrees can make a big difference
Let in the sunshine in the winter and warm your house with daylight
Your house doesn't have to be brand new and it doesn't have to be labelled green to be healthy, beautiful, sustainable, and net-zero.  Here's to making every existing house stealthily green.
{ 0 comments }