Sitting in my favorite coffee shop I hear…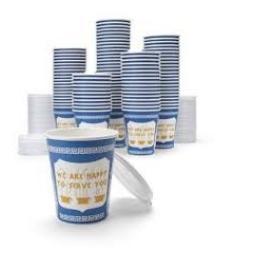 Boy says to girl: "You like the idea of recycling but you don't actually participate"
Girl says: 'WHAT!"
Boy says: "You claim to use recycled bags but you always come home with plastic!"
Girl says: "Ugh" and leaves.
Boy looks bewildered and orders coffee. Ouch!
There are a whole lot of places out there that are setting zero waste targets and they will need your help to achieve those goals. So what would someone say about you? Recycling is habit forming – once yo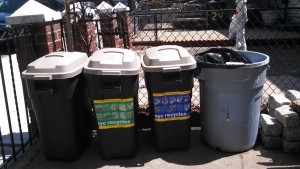 u start, it becomes a challenge to see how much of what you thought was bound-for-the-landfill trash is actually recyclable waste. A good friend who recently started recycling says that her recycling bin is overflowing and her trash is nearly non-existent – maybe one bag a week – one small bag.  She gets a sheepish look when she thinks that all that used to go in the trash.
What can you recycle?  Assuming your community offers recycling you can almost be sure that you can recycle: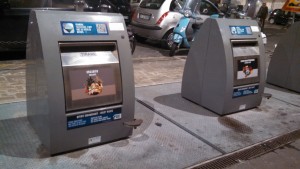 glass (not broken) bottles,
metal cans,
white paper,
newspaper,
cardboard,
and many plastics. For the plastics, check the number inside the little triangle that is located on the bottom of the container against the list your recycling
company has posted so that you are sure.
You may also be able to recycle clean aluminum foil!
What about the other stuff? Here is a smattering of what you may have in the trash and what you can do with it:
Vegetable scraps and waste: You can compost this yourself, contract with a composting contractor, put them in the Insinkerator and have the sewage treatment plant compost it, or many times you can reuse scraps in making soup or smoothies! Think again if you think you can't compost.  Check out these little units that work right in your kitchen.

  Meat scraps: If not too greasy, you can put these in the Insinkerator but you may have to send them to the landfill.
Coffee Grounds: Put these out on your street tree or under acid loving plants like Azaleas to sweeten the soil or put them in your compost.
Wine Corks: Save them for craft projects or recycle them at a collection point. Cork is valuable and reusable.  Whole Foods collects and recycles them.
Plastic bags and other thin film plastic: Many, many places including grocery stores, pharmacies and Wawa collect and recycle thin film plastics. Better to bring your own bag for shopping but when you do use them, save and return them for recycling.
Clothing: Donate old clothing and shoes to a charity.
Batteries: Don't send these to the landfill. Radio Shack and Whole Foods collect and recycle batteries. Most communities hold hazardous waste collection days for batteries and other potentially hazardous items.
Printer cartridges: Send them back or recycle them through Staples.
Styrofoam and other cellular plastic packaging: Sadly, these go to the landfill.
Single serving coffee canisters like Kuerig: IF you are still using these, they go to the landfill.
What is left? A quick look in my trash has stuff we couldn't recycle and should think twice about buying:
Baking parchment paper – we should get a baking mat to replace this
Chinese restaurant containers – we should bring our own over to the shop to pick up food – or eat there instead!
Tissues – Okay, we could use and wash hankies but…no.
That's it! Easy.
Next time you go to throw something out, take a look and see if any part of it can be recycled and then do – don't just say you do – actually do recycle it and reduce the load on the planet.