Personally we brew our coffee in a French press.  No filter, no muss, no fuss.  When we have company we use a drip coffee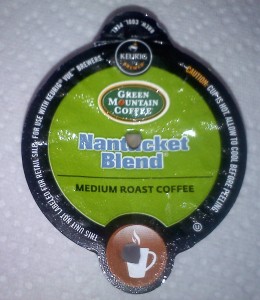 maker using a reusable gold filter and put out various flavors and creams to let everyone create their own unique cups of coffee. That isn't the case with a lot of people.
In fact, if the maker of the K-Cup and Vue coffee systems, Green Mountain Coffee Roasters and their Keurig brand, has their way there will be, "…a brewer on every counter and a beverage for every occasion" (Green Mountain 2011 annual report).  That is a lot of cups, a lot of waste going to the landfill and very, very little of it recyclable.  That fact is more than slightly ironic coming from a company that touts its sustainable coffee purchasing methods, its community commitment and its cool, sustainable sounding name.
Green Mountain's first quarter 2012 sales of Keurig brewing machines was approximately 4 million units which was about double from 2011. According to their annual report, Green Mountain's 2011 K-Cup net sales were $1.7 billion with annual growth rates of up to 80%. That equates to about 5 billion K-Cups sold in 2011.
The K-Cup was first introduced in 1998.  Unit sales prices are hard to come by but we know that 1.6 billion K-Cups were sold in 2009 and that expectations were for sales of 3 billion units in 2010 and 5 billion in 2011.  Assuming growth of 70% per year we can conservatively estimate unit sales of about 11 billion K-Cups since 1998.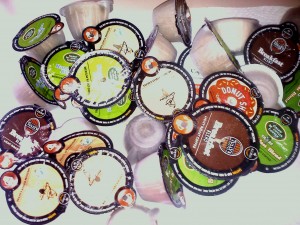 One day's Vue Cup usage at a small office
So where do all those cups go? They go to the landfills of America. A K-Cup assembly consists of a non-recyclable plastic cup, a non-recyclable foil top, a somewhat recyclable filter and some coffee.  It is the rare user who takes the time to deconstruct a K-Cup to harvest the coffee grounds but even if they did the components would have to be thrown away and deposited in a landfill. That is a lot of waste so that we can enjoy individualized, on-demand cups of coffee.
The company has responded by creating a new machine with a new type of cup called the Vue system.  The Vue cup made from number 5 recyclable plastic that, once deconstructed, can avoid the landfill. The foil top cannot be recycled, the paper filter might be recyclable. That means the coffee grounds can go to the plants or composter, the cup can go to plastic recycling, the foil goes to the landfill and the filter paper to paper recycling – maybe.
In theory that is great, now all Green Mountain has to do is invent an automatic recycling unit that is attached to the machine.  Right now when your cup is brewed, the cup is automatically ejected into a holding bin – out of site – out of mind.  When was the last time you saw anyone interact with their used K-Cup or Vue container except when the ejection bin was full and all of the containers were dumped in the trash?
Besides our French Press solution, there are alternatives to this K-Cup outrage. Green Mountain markets a reusable cup called the My K-Cup that can be filled with whatever coffee you care to brew.  This comes with a disposable filter and works much like a disposable K-cup.  This unit is only available for the K-cup, not the VUE.
Outside the Green Mountain family of products is the My-Kap product line that sells disposable cups and filters that fit the Keurig K-Cup machine and reusable caps that fit into the K-Cup itself allowing it to be reused with your own coffee until the cup wears out.
At present there is no reusable solution for the Vue cup.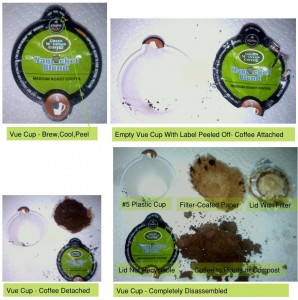 It is also possible to enjoy the individualized Vue cups AND partially avoid the landfill but it takes the effort of disassembling the whole unit.
Public pressure has prompted Green Mountain to explore sustainable solutions.  Currently the company is running a limited pilot test program in their 'Away From Home channel" aka business locations.  This program, called Grounds to Grow On, requires participants to purchase a postage paid box to return used cups. Green Mountain then promises to separate the units and dispose of them: coffee to composting and the container with foil, cup and filter to an incineration plant for power generation. Note that business locations amount to 10-11% of brewer sales leaving the residential market with limited options.
This is an okay but not great solution – especially since the company is asking for customers to pay for the return.  It is estimated that Green Mountain makes a significant profit per unit, asking the consumer to pay for the return seems a bit cheeky.
Perhaps there are other possible recycling options for them to explore.  These might include:
Using new materials that are truly recyclable
A storage bin that deconstructs the cup for the customer
A Terracycle program that benefits not-for-profit groups
A free return to manufacturer program for commercial and residential customers
Green Mountain owns the Green Mountain, Tully's, Van Houtte, Timothy's, Diedrich Coffee, Coffee People, Donut Shop,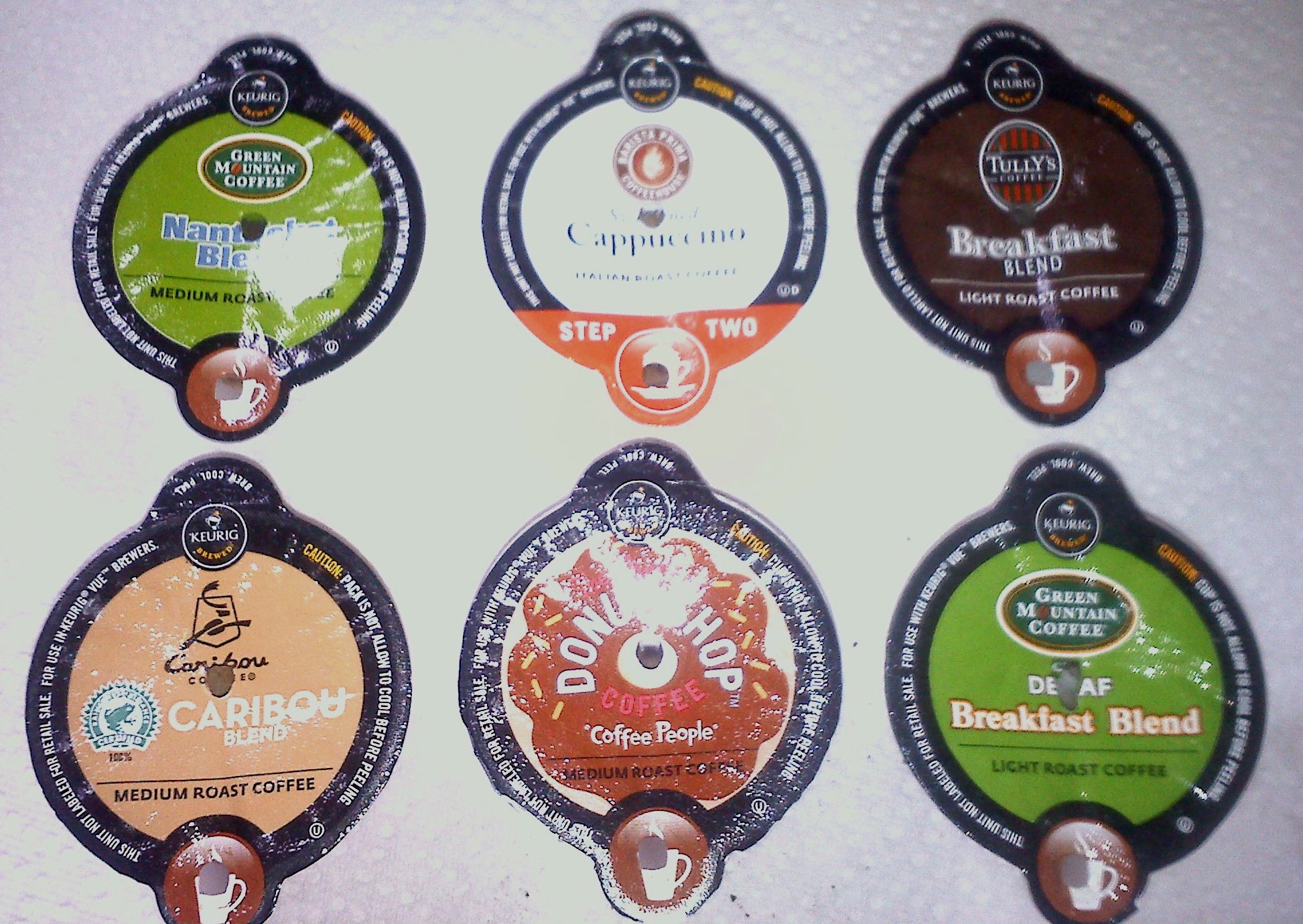 and Cafe' Escapes coffee brands and has licensing agreements with Dunkin' Donuts, Starbucks, Newman's Own, Gloria Jean's, Folgers, Caribou Coffee, Swiss Miss and Tazo tea.  They have a wide and deep market presence and we can assume that growth will continue.  Even if, as some analysts are predicting,  that growth rate slows, we will be seeing at least 5 billion units enter the market place every year for the foreseeable future.
Do we want our landfills to be overrun with little plastic cups or will we act by individually recycling, reusing and pressuring Green Mountain to live up to its mantra of using profit for a higher purpose by acting sustainably and responsibly in improving its product for the planet?