Summer Salad
Ingredients:
3 cups mixed spring greens
Handful of Goji Berries
10 Dried Apricots chopped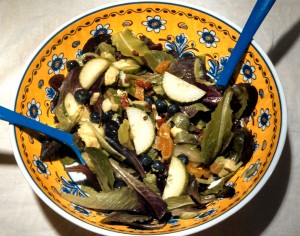 1 medium Avacado cut in chunks
1/2 medium Cucumber sliced and halved
Handful of Blueberries
Put in bowl and toss. Dress with a freshly made vinagrette.
Vinagrette
1/2 cup Olive Oil
2 Tablespoons White Wine Vinegar
1 Tablespoon Balsamic Vinegar
1 Tablespoon Honey
1 Tablespoon Dijon Mustard
1/4 Teaspoon Tarragon
1/8 Teaspoon Pepper
Mix together and shake will well blended.