Thanksgiving Stuffing
To Make:
Ingredients:
5 cloves garlic – smashed and minced
5 tablespoons olive oil
3 large onions – diced
2 lbs bulk country sausage (exclude for vegetarian)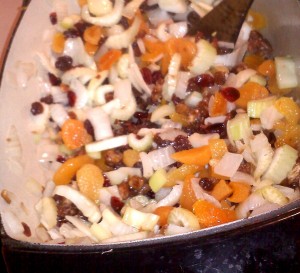 1-1/2 cups Raisins
2 bags Dried Apricots – equates to something like 30-40 dried apricots – chopped
1 package of Figs (not fresh) – equates to about 20 figs – chopped
1 bunch of Celery – sliced into 1/4″ pieces
2 tablespoons Dried Sage
2 teaspoons Pepper
2 teaspoons Thyme
1 large loaf of Whole Wheat Bread
about 6 boxes organic chicken stock (or vegetable stock if vegetarian)
Process
In largest skillet you have ( I use a skillet and a casserole pot – you need space because the bread part is bulky):
In the olive oil, saute the onions and garlic until translucent
Add celery and saute until softened
Add sausage and saute until browned throughout.  You will need to break up the clumps.  (Exclude for vegetarian.)
Add raisins, apricots and figs. Saute until they look plumper.
Add about sage, pepper and thyme.
Taste to see what you think of the seasonings.  Adjust.
Add bread pieces and fold into the sausage mixture.
Pour cans of stock one at a time stirring until absorbed.  STOP putting in stock when no more liquid is absorbed and it starts to pool.
Put 1/2 of the mixture into the turkey and 1/2 in a pot to cook in the oven. Usually the pot is in a 350 deg oven for about an hour.