Stress Buster – Five (maybe six) Reasons Not To Clean Up Your Garden this Fall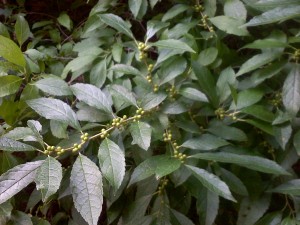 Winterberries in the summer will ripen into a migratory bird food source over the winter
Summer may still be in high gear but many gardeners are beginning to think about fall and cleaning up the garden in preparation for winter and the promise of next spring.  Better idea, spend the time enjoying the fall garden all the way through winter.  Then once spring comes, limit that clean-up too.
Why not clean up? Here are five major reasons:
Plant seeds are a winter food source for many native and transient birds and mammals. Finches, sparrows, red wing blackbirds, and juncos will forage all winter in the garden. Squirrels and chipmunks will also feed on the untrimmed garden's seeds.
Plants can self sow in the garden.  Many native plant seeds need cold stratification or to spend a period of time in the cold and moist in order to germinate in the spring. Leaving the seeds to fall in the garden makes your job easier – less bagging and refrigeration of seeds to cold stratify – less sowing of seed – less labor to clean-up!
Overwintering plants are a nursery for beneficial insects.  The eggs and pupae of insects such as praying mantis and butterflies stay attached to plant leaves and stems for the winter to hatch in the spring ready to pounce on other insects that may be harmful to the garden and to sip the nectar of spring flowering plants.
Free mulch.Leaf litter and plant debris is some of the best mulch you can find.  Leaving the plants in place allows Summer echinacea seedheads ripen to provide food all winter and into the spring AND the seeds self sow in the garden!

the debris to fall between and around the plants.  This material will protect the plants during the cold and snows of winter and then break down and feed the plants throughout the growing season.

Beauty.  Seeing a cardinal perched on a bare stalk against the winter snow, the flit of a robin as it forages onoverwintered berries and crabapples, the exciting flash of a goldfinch as it feasts on echinacea seed heads in early spring allows us to appreciate the warmth and comfort of home knowing that we are providing food and shelter for the birds, insects and mammals outside our window.
Limiting you garden cleanup also gives you more time.  Time to destress, sit inside, read garden seed and plant catalogues, see the bones of your garden outside the window, watch the birds and dream of next year's garden.