August 2012
ACK! Electric consumption was up this month!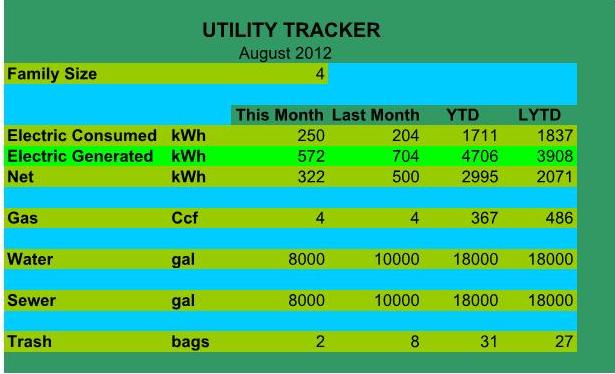 Electric up! Gas the Same! Trash Down!
I blame using the dryer because of cloud cover and my teenager's constant need to be on-line – the Wi-Fi was on almost continuously. Electric generation was down too – clouds.  But even with all of that we remain 20% ahead on net outflow of electricity to PECO.  One way to think about it is if folk use as little electricity as us, then our electric outflow powers 2 other houses – if they aren't quite as thrifty, then we power ourselves and one other house…maybe our next door neighbor's house…now that is local.Natural gas usage is even with last month but still 24% lower than last year.
We recycled lots of stuff and ended up with only 2 bags of trash for the month so… we beat the One-Bag-A-Week Challenge by 2 bags! We have also worked out our differences with the recycling guy and he seems to have accepted the fact that we have lots of newspapers.  I am sure that someday I will be happy reading the paper on-line but I am not sure when that will be.  I really like having a real newspaper to read.