December 2011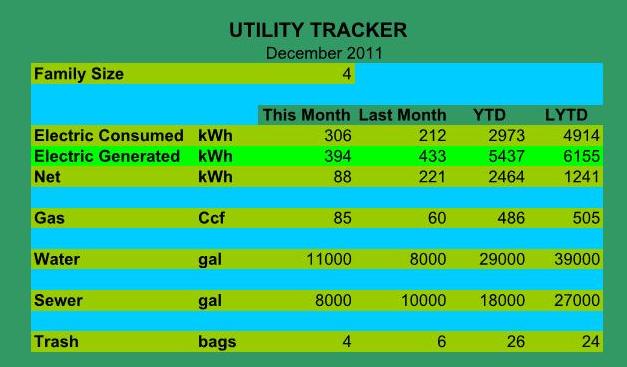 Here we are at year end.  How did we do?
Electric
Cut total annual electricity consumption by almost half – 2,000kWh
      and generated 600 kWh less than 2010 (all that 2011 rain and snow really got in the way of the sun! )
      and 'sold' double the amount of electrcity to the utility double compared to last year!
On a monthly basis though, consumption is up over last month and last year- we blame Thanksgiving and all that cooking – but it could be the new microwave and range.  Next month will show if there is a trend.
Gas, Sewer, Water and Trash
Cut annual gas consumption a little mostly from not using the dryer.
Cut annual water consumption by 25% and sewer by 33%. Did the same amount of wash but watered the gardens only from the rain barrels and installed water saving aerators and showerheads.
Trash totals increased even with vigilance.
Where do we go from here?
Air sealing
Insulation
Metering