February 2012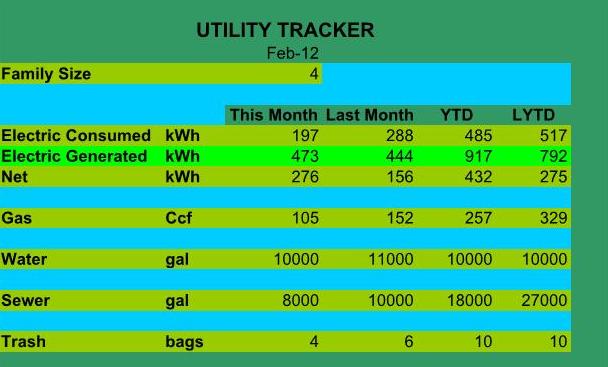 ELECTRIC
Electric usage dropped about 31% from last month.  That is average for this time of year.  Looking back over 4 years we have experienced a similar Jan to Feb drop in consumption.
Two exciting things in the electricity numbers are the year to date results and the Photovoltaic (PV) Solar System production numbers:
– total year to date is down 6% which isn't a huge number but it continues the conservation trend from last year where there was a 33% drop in consumption in the first two months compared to 2010.
– PV system production increased 16% over last year!  With the reduction in consumption, net kWh generation is up 57%.
GAS
Gas consumption is down 22% over last year due to two main factors:
– It has been, on average, 7 degrees warmer this year and
– the air sealing project was completed during this period allowing the house to be set 3-4 degrees cooler with the same  comfort level.
Water and Sewer numbers remain unchanged as the billing is quarterly.