July 2012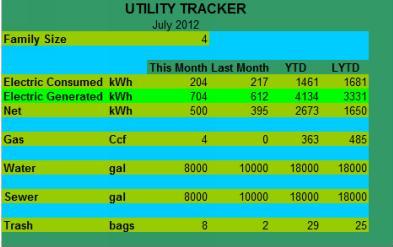 PECO, our electricity provider,  processed a solar credit this month! We remain unsure of how it is calculated and continue to await an answer from the customer service and billing departments.  The credit came in two forms: an Adjustment and an Overpayment credit (from last October!).
Gas usage was up for the month over last month because the dryer was used on some very stormy days but consumption remains down by 25% over last year!
Electric consumption was down 5% over last month and 13% below last year.  Careful attention to usage, reduced usage of air conditioning and the air sealing project have all contributed to this reduction.
But HOORAY for electric generation! Up 15% over June and 24% for the year over last year. Way to go solar plant.  Total solar production to date is 19,197 kWh.
We did not meet the One Bag A Week Challenge this month because we have been cleaning like crazy – even with so much recycling that we had to meet curbside with the recycling truck team – we had an overage of 4 bags.