September 2012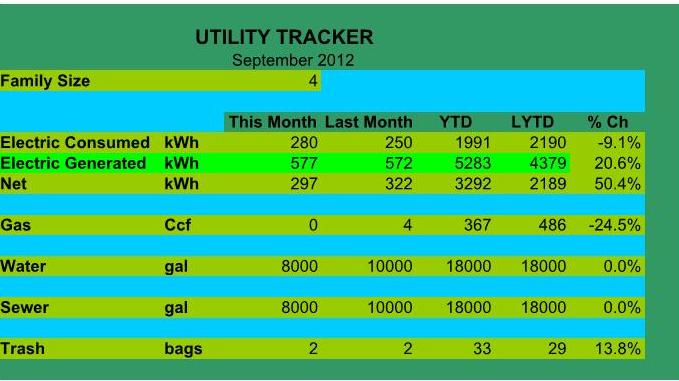 Here we are at the end of the summer.  The days are getting shorter and the nights are getting cooler.  Great for sleeping, not so great for solar energy production.
Our usage was up this month mostly because we ran the a/c a few times when it was hot hot hot and muggy.  Still year-to-date we remain 9% below last year's consumption.
Year-to-date solar electric generation is up an impressive 21% over last year which is very exciting. We plan to get the solar panels cleaned next month because dirt and streaks can reduce efficiency; clean panels may just eek out a little more production in the winter months.
Gas consumption this past month was zero because we never ran the dryer – the wash was hung out on the line and everything smells great!
No change in water and sewer usage because we haven't received the bill yet and trash generated stayed steady at 2 bags for the month.  Hooray for the one-bag-a-week challenge.  That said we are still over last years generation because of the household clean-up.