A Gazillion Ways to Recycle for the One-Bag-A-Week Challenge™
Take a look in your trash can.
What is in there that can't be recycled?
Not much.  Try these 16 ways to reduce your landfill load.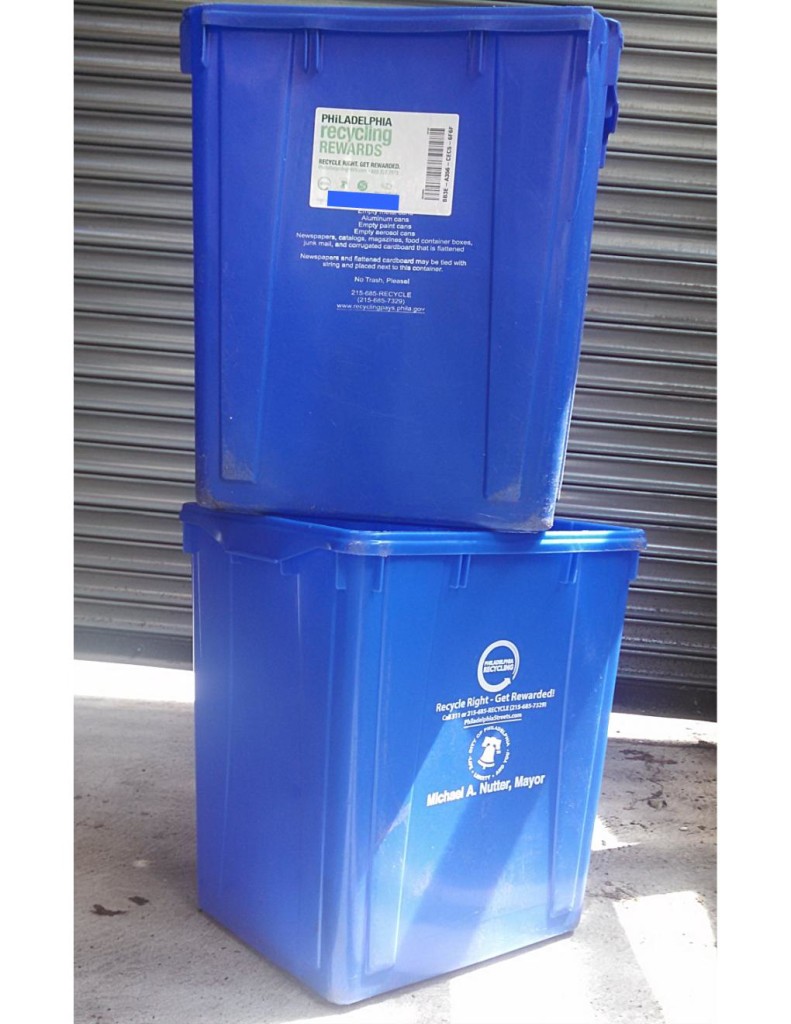 Single Stream Recycling
Paper: newspaper, magazines, office paper, junk mail, cereal and soft drink boxes, corrugated cardboard (including pizza boxes)– remember to leave loose or pack in paper
Aluminum and steel cans: food cans, soda cans
Glass: jars and bottles – remember to take off the caps and lids
Plastics: All containers #1 – #7
Got a charity or a cause? Want to reduce waste? Want to turn waste into money?
Terracycle.  Look in your trash can or any of those around a school or a gym and what do you see? Lots of packaging materials – drink pouches, potato chip bags, gum wrappers – sign up with Terracycle, collect all of that 'trash', send it in postage paid and either get points for Terracycle projects OR money for a designated charity.
Try Freecycle.org, Neighborow.com,Swapthing.com, Rehash.com, Handmedowns.com, Goozex.com,  Swaptree.com, Chancexchange.com

For the baby needs: Newborn's In Need newbornsinneed.org Donate gently used children's items and Thebabychain.com
Or donate your goods to: Goodwill or The Salvation Army
Some Common Household Trash Items That Can Be Recycled
Plastic Bags: Don't use them. Carry your own, reusable shopping bags.  If you do end up with some, recycle at most grocery stores.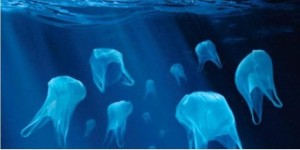 Plastic Bags Floating in the Ocean
Coffee Grounds: Have an acid loving plant? A Pine tree, Rhododendron or an Azalea? Sprinkle some grounds around on the soil near the plant and they will thrive.  Extra grounds make a nice addition to the compost heap.
Food Waste: Vegetable and fruit waste can be easily composted.  Meats and dairy products go to the landfill. There are a myriad of ways to compost ranging from a heap in the yard to keeping a worm bin to installing an electric composter in your kitchen; the internet is bursting with information.  One really easy way is to grind your food waste up in your kitchen disposal and let the city water treatment system compost the waste for you.
Paper Napkins: Don't use them.  Switch to cloth – they last a long time and are beautiful.
Aluminum Foil: You can recycle aluminum foil with your single stream recycling IF it is clean.  If not you may need to put it in the trash. Instead of aluminum foil or plastic wrap, use reusable beeswax impregnated cloths to wrap up leftovers.
K-Cups: These may be convenient but WOW the waste problem. 2.5 million K-Cups are used and tossed away every day! An estimated 11 billion are sitting in landfills right now.  We need to pressure Green Mountain Coffee Brewers to change to environmentally friendly packaging.  In the meantime there are lots of alternatives to throwing them away.  There are lots of alternatives to throwing them away.  Some include:
At work my husband takes them apart, recycling the cup, composting the coffee and tossing the filter and foil. Hard work but it helps.
Keurig has come up with a reusable cup that allows you to use your own fresh coffee grounds.
Keurig has developed the Vue brewing system.  The coffee inserts are easier to recycle,
Brookstone sells a single cup brewer.  Fresh individualized coffee without the waste.
Melitta sells a single cup filter cone for use at home or in the office
If you or your company MUST use Keurig – why??? – then please sign-up for the new Grounds to Grow On recycling program (the k-pod recovery program) being managed by Staples for Green Mountain.  In the face of mounting pressure to do something that is sustainable and to avoid the press about the mounting volume of K-Cups in landfills they have – instead of developing a cup that dissolves or a new way of making their system work – decided to give companies the chance to send them back and then they say that each and everyone will be disassembled.  The coffee will be sent to be composted, the other parts will go to a waste to energy plant.
 Batteries:  With batteries, buying smart makes a big difference.  Single use batteries are cheaper up front but there are very few places to recycle them.  Use rechargeable with a solar recharger and then recycle them when they are worn out.  Check manufacturer return programs.
Electronics: Recycle them at a local electronics recycling event or through your local landfill.  It is important to keep them out of the waste stream because of the hazardous materials they contain.
Light Bulbs:
Incandescents: What to do with all the incandescent light bulbs we are replacing with energy efficient bulbs? Home Depot will accept incandescents but beyond that there are very few alternatives beyond the landfill.
Compact fluorescents: Cfl's contain mercury and although it is a very small amount, they should be disposed of carefully.  There are a few major retailers who will accept non-working bulbs including: IKEA, Lowes and Home Dept.
Commercial recycling of bulbs, electronic waste, batteries and ballasts can be a challenge.  One firm, Everlights, provides easy, customized recycling and relamping solutions for companies.
Clothing: Sell gently worn clothes on consignment, or donate it to Goodwill or the Salvation Army. Better yet, repurpose old clothes: t-shirts made into pillows and quilts, ties into skirts, socks and pantyhose into rugs, blue jeans into insulation that can be installed in your house – itch free, no VOC, healthy insulation.
Corks: Take your wine corks to Whole Foods where they are collected and recycled into flooring and other cork based products.
Sneakers: Lots of places collect used sneakers for donation. Nike collects used athletic shoes and repurposes them into play surfaces and clothing items like zippers and pulls.  25 million plus shoes repurposed to date! Find out more at Nike Reuse a Shoe.
Leaves and Grass Clippings: Mulch! Spread clippings and leaves under your trees for natural mulch or create a heap in the yard, by the end of the season you will have rich, dark soil to spread in your garden.  If that is too unsightly for you check with your town about community mulching.  One Township near my home provides a bag of processed mulch for each load a community member brings into the centralized processing plant.
Branches and Clippings: Chip and mulch! Don't burn them or you will have to recalculate your carbon footprint.
Books: Donate used books. Lots of places take them including: needy schools, church and PTA sales and charitable organizations.
In our town we have a Senior Center Bookstore that resells used books and uses the funds to support programs for local seniors.
Books for Soldiers Personalize a shipment of books, CD's or DVD's to a soldier and brighten their day.  Sign up at the website.
Your local library may take donations of books, CD's and DVD's for their annual book sale
Furniture: Sell it on consignment at a local shop, donate it to the Salvation Army, hand it along to a just getting started 20 something.
Metal Clothes Hangers: Take them back to the dry cleaner! Simple, easy and may help to keep prices down – the price of new hangers is rising.
Scrap Metal: Some scrap metal is worth a lot of money. Take it to a scrap dealer.  They weigh it and pay you buy the pound.  Then they make new stuff from your metal.