Recycle Less – Reduce Junk Mail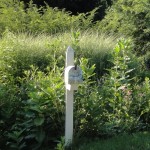 Want more room in your mailbox?
Tired of all that junk mail?
Contact these companies, give them your name and address, sign the request and tell them "Please remove my name and address from your mailing list."
Federal Trade Commission Information:  http://www.ftc.gov/privacy/protect.shtm
Direct Marketing Associateion
Mail Preference Service
P.O. Box 9008
Farmingdale, NY 11735
www.dmachoice.org.
Harte-Hanks
List Removal Services
Attention: Corporate Privacy Manager
2800 Wells Branch Parkway
Austin, TX 78728 USA
PSAC@harte-hanks.com
(512) 434-1100
Val-Pak Coupons
Direct Marketing
P.O. Box 13428
St. Petersburg, FL 33733
http://www.valpak.com/environment/
Opt out of credit card offers by calling 1-888-5-OPTOUT and press 2 for permanent removal from their list or www.optoutprescreen.com
Inform major data compilers that you want to op out by calling or emailing:
Acxicom at 877-774-2094; https://isapps.acxiom.com/optout/optout.aspx
Donnelly Marketing 888-633-4402
Equifax 800-873-7655 http://blog.equifax.com/credit/how-do-i-opt-out-of-credit-offers/
Experian Consumer Services 800-228-4571 ext 4633 http://www.experian.com/credit-education/opting-out.html
Transunion Name Removal Option
http://blog.equifax.com/credit/how-do-i-opt-out-of-credit-offers/
Paper comes to your house in many ways – one is flyers and paper marketing sheets that are left behind on your door.  If you live in Philly, you can opt-out of these deliveries by submitting a form and labeling your house as a Circular-Free Property.
Sometimes the best way to reduce is to not consume in the first place.