So you live in an apartment and are convinced that there is nothing you can do to live more sustainably…. Think again.
Here are thirty plus things you can do to help lighten the load on the planet and fill your world with joyful sustainability: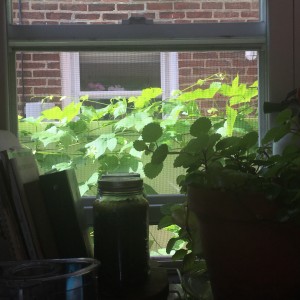 BE JOYFUL.

Plant a kitchen herb garden or container garden on your window sill.
Hang up a new painting to brighten your space.
Add

color

to your world – want to be calm, creative and thoughtful? Add

Yellow

,

green

,

blue

and

lavender

. Want to be fired up and hungry for more? Add

red

and

orange

.
Wash your windows and let the light in!
Invest in a few mirrors and position them to bounce natural light deep into your space.
Treat yourself to a lamp that mimics natural daylight, and plays sounds from nature. Imagine waking to bird song.

BE MORE COMFY AND BREATHE BETTER (oh, and save energy).

Change the air filters on your heater and air conditioner (every 3-6 months).
Put draft stoppers on the windows and along the door – buy them or make your own!
Use non-toxic cleaning products. Buy or Make your own!
Install a water filter under the sink or put a water filter like a Brita in the fridg

AVOID THE LANDFILL.

Recycle your paper, plastic and metal. If your landlord doesn't participate in your city's program, then become an activist and rally all the tenants to push for recycling.
Recycle batteries, corks and thin film plastics at the grocery store – Whole Foods does all of this for you.
Shop light. Packaging piles up! All those boxes from meal services like Blue Apron, take-out and delivery food services like the Chinese place down the street, and pre-made frozen meals from the grocery store are bulky and are often not-recyclable. Instead, get the dog and go for a walk to get some real food – fresh produce and cheese from the farmer's market, bread from the shop down the street, meat from the local butcher…stick the veggies and meat in the crockpot in the morning and you have a meal at night.
Use reusable shopping bags.
Get your landlord to install an  under the sink Insinkerator and grind up your food. Many water utilities create compost from your food scraps – Philadelphia does! Reduce waste, create compost, feed the soil,  grow more food to put in the crockpot to complete the cycle!.
Use cloth napkins.

SAVE WATER.

STOP PAYING SO MUCH FOR UTILITIES!
Change your light bulbs to LED.
Turn off your electrical appliances and lights when not using them.
Wrap your water heater in an insulating blanket.
Pretend you are in Florence, Italy and hang your clothes out to dry. Urban Clotheslines has a nice model that folds down when not in use.  For a temporary installation check out this one from Bed Bath and Beyond
Maintain your appliances to max their efficiency. Some you may forget include:

Keeping the oven and microwave clean
Vacuuming the coils behind the fridge
If you have a dryer, vacuuming out the vent every six months

Try and convince your Landlord to purchase electricity from a company that generates from 100% solar and wind!

BE PORTABLE.

Take your own mug or insulated coffee cup to the coffee shop and your meetings.
Use a reusable bottle.
Carry a fork with you to use at all those buffet events you go to.
Save your favorite name tag and reuse it at.
See, that wasn't so hard.  Now you are comfy, cozy, saving money and saving the planet! HOORAY!