I use the bike share systems wherever I go but for the USGBC GreenBuild conference in Boston I had planned a low carbon trip that included taking the train with my bike for getting around town.  At the last minute those plans changed instead, I left my bike behind and drove taking my helmet and reflective gear with me.  Simple solution to salvage my green transportation plan? Pre-purchase a long-term parking spot, ditch the car on arrival, and use Boston's TheHubway bike share system to get around town. This proved more challenging than I had anticipated.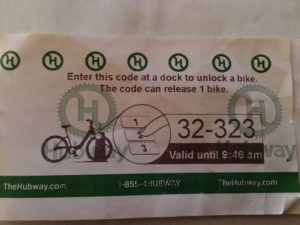 TheHubway is great. The bike kiosks have great signage and are easy to use. Although the bikes offer limited storage options, they are well maintained and comfortable. I bought a $15.00, 72-hour membership pass at the Convention Center kiosk, selected a bike, punched in the release code, pulled the bike out, strapped on my extra bike lights, donned my helmet and high-viz vest, and was ready to ride. I solved the storage issue by strapping my bag to the bike with the bungee cords I always carry.
The first sign of trouble was when, at the traffic light next to TheHubway station, a Bostonian asked me if I was REALLY going to ride that thing in Boston.
I thought: Huh!?
My response: Of course!
His response: Good luck with that.
Undaunted, I crossed the street, got on the bike and road away.
The second sign of trouble was the traffic. My experience in other cities is that bike share kiosks are placed alongside bike lane designated streets.  This is not the case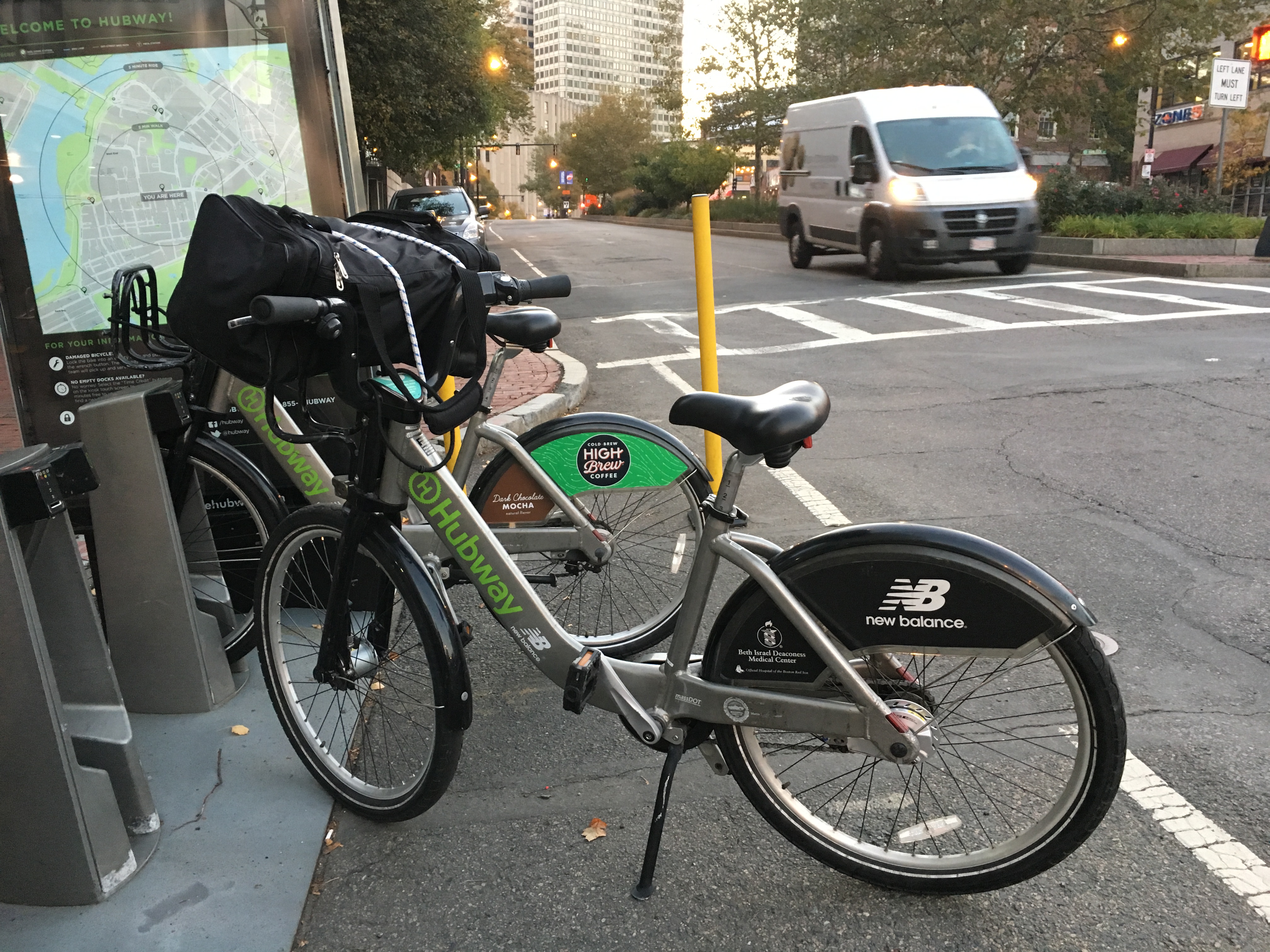 in Boston – particularly in Downtown where designated, marked bike lanes are either non-existent or sporadic and disjointed, and bike signage is nearly non-existent. I had checked a bike map and knew that there was not a designated lane at the Convention Center but I had also checked the bike laws before leaving home. Like in most places, bicycles in Massachusetts have the same rights and responsibilities as automobiles. This should translate into bicycles having a semblance of the same respect as an automobile.
The drivers in Boston are clearly not used to sharing the road with bicycles. I am an experienced city street cyclist who has dealt with a good deal of automotive bullying but, Boston wins the prize for crowding, cutting off, intimidating riders, and generally being antagonistic and aggressive toward bicyclists.  At a few traffic lights I was joined by other cyclists and asked them about their experiences on the road.  To a person they said that to ride in Boston you need to be tough and very, very wary.
It is tough to find a good map of Boston's designated bike lanes but this Bike Routes of Boston map which was crowd-sourced from experienced riders by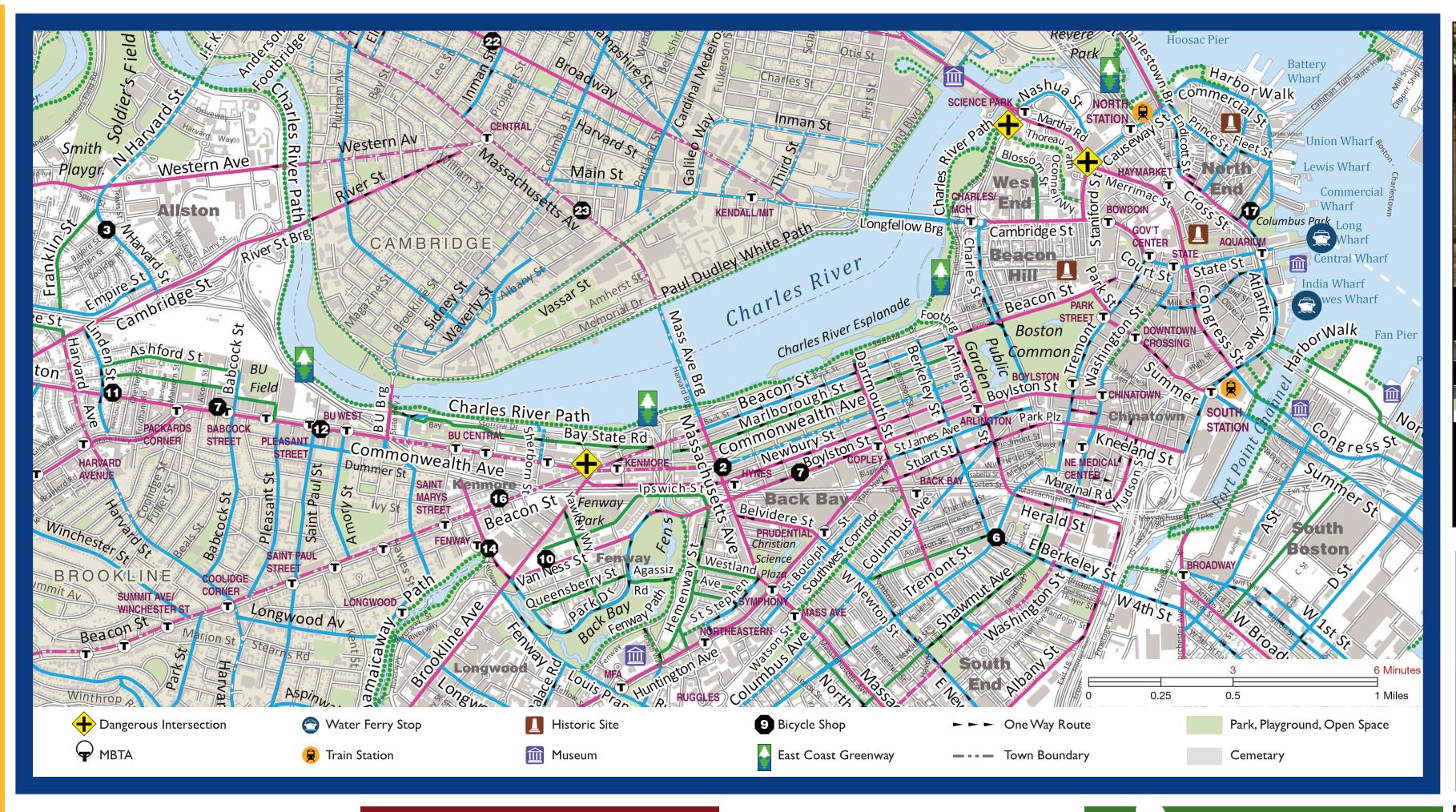 Boston Bikes, suggests riding experience levels by street:  Dark Pink is for Experienced riders, Blue for Intermediate, and Green is for Beginners. It is evident from the amount of Dark Pink and Blue on the map that the area from Harborwalk to Back Bay that Downtown Boston and South Boston, where the Convention Center is located, are no place for novice or uninitiated-to-the-street riders.  This area, by the way, invites many tourists.
I think that if a city installs a bike sharing station it is indicating that the abutting route is generally safe for anyone to ride. Now that I have ridden there, it is unconscionable to me that TheHubway is even available in the Downtown Boston.  I can only assume that the stations are the cart before the horse.
In its 2013 Boston Bike Network Plan , the city pledged to build 35 miles of protected bike lanes. A lack of political will and budget reductions have resulted in only a few miles being built. My sense is that TheHubway stations were set in place in anticipation of the 2013 plan coming to fruition.  In the meantime, the city is putting people in danger of being harmed or killed by unsafe roads and unaware drivers.
Boston has joined cities across the US in adopting a VisionZero Action Plan which is designed to reduce traffic accidents and reduce traffic deaths to zero by 2030. If implemented, this plan will result in far fewer injuries and deaths to cyclists from traffic related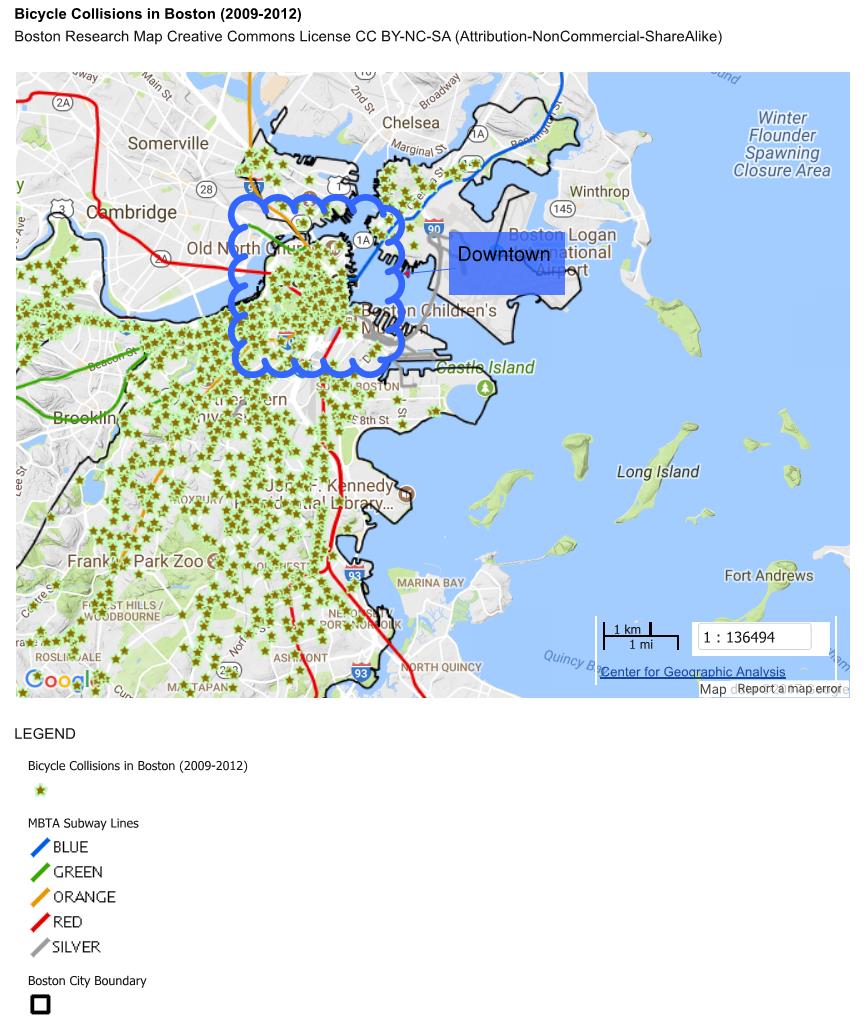 accidents. The VisionZero plan focuses on Education, Engagement and city street design improvements to reduce the dangers to pedestrians, bicyclists and drivers. This long-term plan is great but the need on the streets is now.
In 2014, 555 Boston bicyclists were injured or killed in crashes, 52% of which involved automobiles; many were in the Downtown area. In that same year, Harvard released an interactive map that visualizes crash data around the city for the period 2009-2012. (Note that the police did not start tracking bicycle related crashed until 2010). Bicycle accidents occur across the city but have a heavy concentration Downtown. There is a glimmer of hope. In 2015, that number was down to 506, in 2016 it was down to 427, and up to October of 2017, that number had dropped to 340. The city's VisionZero data  map indicates that crashes are concentrated in the Downtown area.
This trend is good news but I think that next time I am in Boston I will walk, take the T, or drive past TheHubway and hope that someday soon the vision of a bike-able Boston will become a reality. I suggest that you do the same.  If you decide to ride, stick to protected bike lanes and take the advice those local riders gave me; Be very, very wary.