NYC is a great biking city! A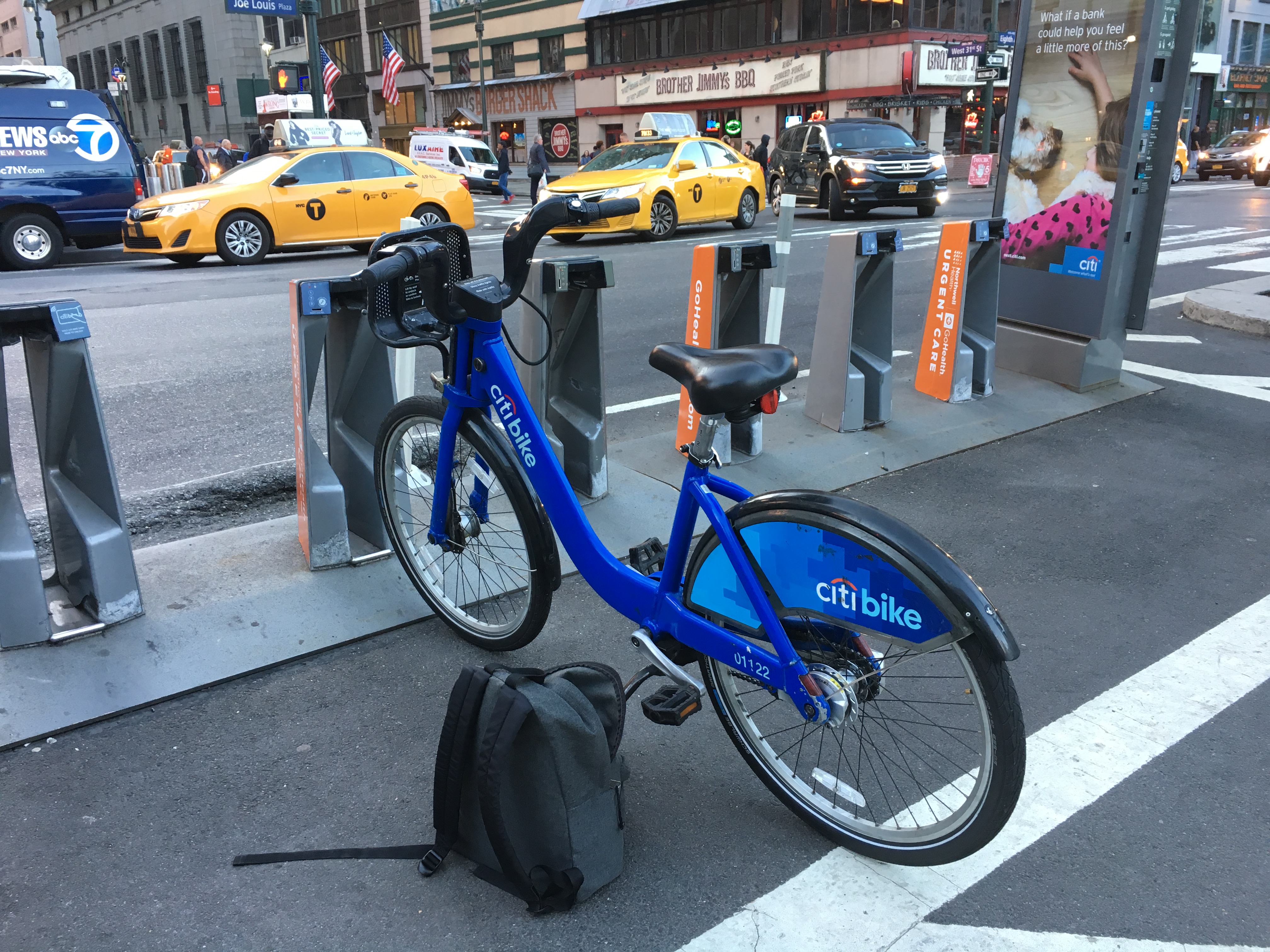 well thought out, connected bike infrastructure complemented by the Citibike bike share system, and respect for bike lanes from
pedestrians and the driving public, make for a very pleasant biking experience on the streets of Manhattan. I recently read Street Fight  by Janette Sadik-Kahn, describing the efforts Mayor Bloomberg's Transportation team made to make the city's streets more accessible and safe for people and more efficient for automobile traffic, and was eager to see the techniques and strategies used to reallocate existing road space to make it function better for everyone. A meeting at The New School  was a great excuse to try out CitiBike and the city streets.
I bought a $12 Day Pass at the 8th and 31st , Penn Station bike kiosk and rode down the well-marked 9th Avenue and Bleeker Street bike lanes dropping the bike at the empty kiosk at 6th Ave and 11th Street where there was a line waiting.  As I walked up 6th I looked back and the bike was already gone. After the meeting I rode through Washington Square to a luncheon just off Houston after which I headed over to the Hudson River Greenway and rode from N Moore up to Pier 96  at W 56th Street. Then off to a coffee date at Grand Central riding over 48th to 9th Avenue and across 44th to Grand Central. Then back to Penn via 42nd to 7th to 31st and into the bike kiosk from which the ride s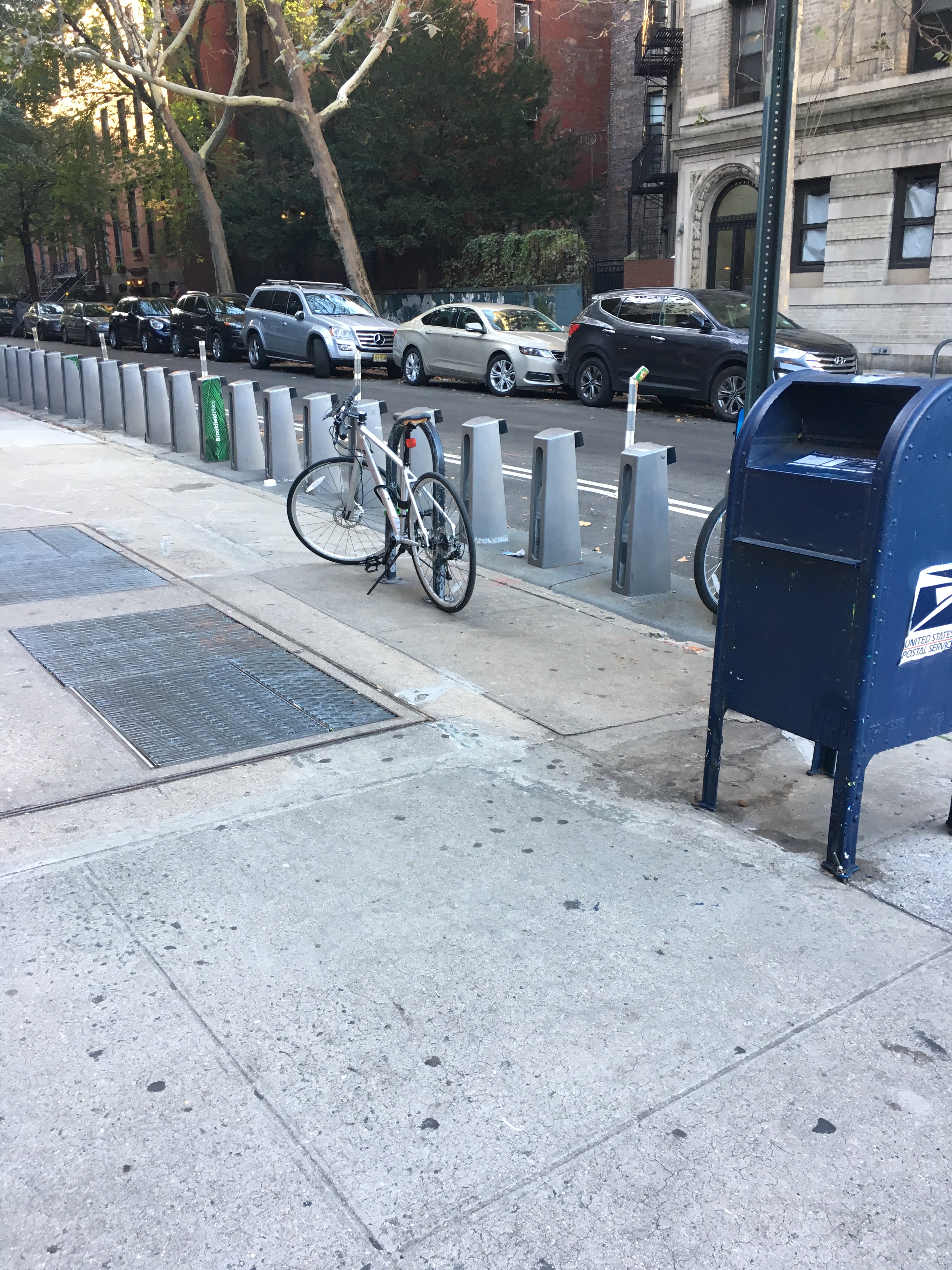 tarted.  All in, 18 miles of clear sailing with only two vehicles blocking any of the bike lanes!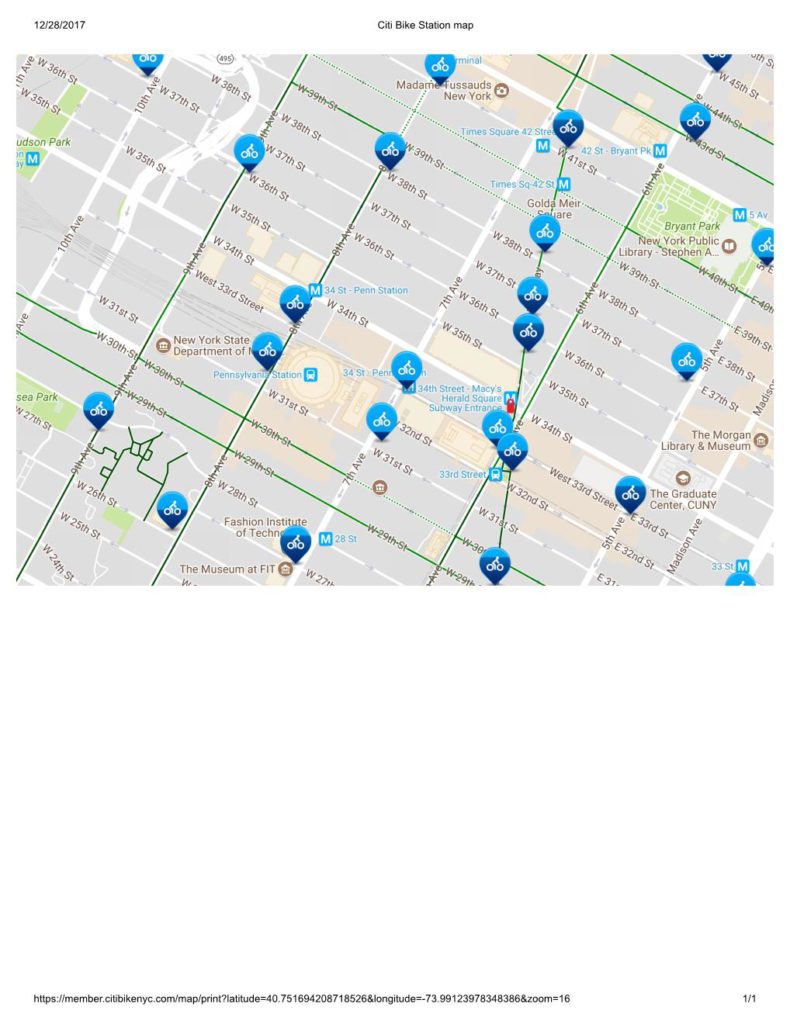 What did I find? Miles of protected bike lanes (over 513 miles citywide), many more miles of well-marked, well maintained, designated biking lanes (over 1,100 miles citywide), bike traffic-control signals at many intersections, and generally pleasant and friendly fellow bikers. I also found that the CitiBike system  is well organized and efficient with a great App for finding stations (which are everywhere – over 700 stations citywide at the end of 2017) and quickly seeing where bikes and parking are available. September 12, 2017 was a record breaking day for Citibike with 74,623 trips made for a total of 161,263 miles!
Often other cities in the US look to Copenhagen and Amsterdam as models for the best way to implement new or improve on existing bike infrastructure and systems.  I suggest that they save their money and take a trip to New York City for inspiration and ideas because in a city that often borders on controlled chaos, bicycling is an accepted and encouraged way of life – if biking can make it there it can make it anywhere.