Kennett Square Guacamole
It may be green but it is packed full of healthful ingredients and antioxidants.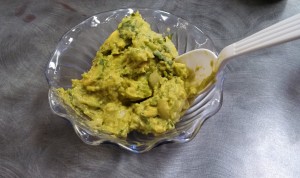 Ingredients:
3 ripe Avocados – they should be slightly soft to the touch but not mushy.  Spoon Avocado meat out of shell.  Keep the pit.
1 medium Onion – chopped
3 tablespoons chopped, fresh Cilantro
¼ teaspoon Cumin
¾ teaspoon Hot Sauce – Texas Pete works great
¼ teaspoon Garlic Powder or 2 cloves Garlic – minced
Optional: 3 tablespoons Tomato – diced
Using fork, avocado masher or whisk, coarsely mash Avocado in a bowl.  Leave some chunks for texture.  Add all ingredients to avocado mash.  Mix. Adjust seasonings to taste. Stick pit in mash to preserve green color. Put in refrigerator for about an hour to meld. Remove pit when serving.
Use as a condiment or dip.  Suprisingly good on potatoes.