Garden For Your Health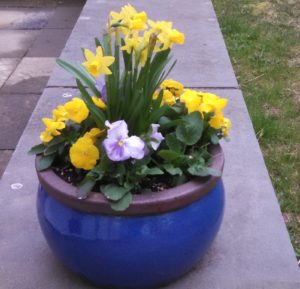 April is National Garden Month and it's almost here…well after a little bit of winter, while we all wait, why not make every month National Gardening Month! Its not only a fun way to get outdoors and enjoy the sun, but it can also be beneficial for your physical, mental, and nutritional health.
After just 45 minutes of digging and shoveling in your garden you can burn 200-360 calories, which is equivalent to 30 minutes of aerobic activity. Working in the garden can also reduce stress and improve your mood by allowing you to get in tune to nature and pause and appreciate the tranquility of your surroundings. Gardening also keeps you mentally alert as you continually learn new skills, try different techniques and expand your knowledge.
Growing your own food is a great way to bring fresher, better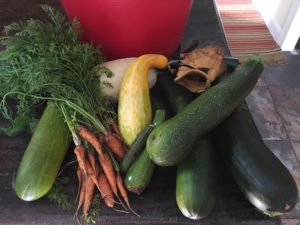 quality, and better tasting ingredients to the table. With a variety of fresh ingredients right outside your door, you can cook up healthy meals and have more control over what you're eating. According to the United States Department of Agriculture (USDA), fruits and vegetables should make up half of your plate for lunch and dinner. Herbs, fruits, and vegetables are filled with anti-oxidants that help the body fight off disease. Search for recipes based on the ingredients you have available at http://recipefinder.nal.usda.gov.
A great way to think about what to grow is to picture a rainbow and look to grow vegetables that reflect all of the rainbows colors.  Mixing vegetables and herbs with flowers in our garden – they are all easy to grow.  Here are some examples:
Bush Beans, such as green beans, are great for their crunch and flavor, and are a good source of vitamins A, C, and K, potassium, iron, and fiber. Sow seeds every few weeks in well-drained soil under full sun for a continual harvest throughout the summer.
Peppers can be red, orange or green and can be grown in almost any garden soil and in enriched potting soil in pots on your deck.good source of vitamins A, C, and K, potassium, iron, and fiber. Sow seeds every few weeks in well-drained soil under full sun for a continual harvest throughout the summer.
Orange Carrots are great for vitamin A, which is needed for vision, healthy skin, and the immune system.  Carrots can be planted early in fertile, sandy loam, a mixture of sand, silt, and clay.
Lettuce mix is made up of a variety of leafy greens for salads and sandwiches. It's best to grow them in cool weather during the spring and fall for a continuous harvest.
Mild mustard salad mix is made up of dark, leafy greens that are rich in vitamins A, C, K, and folate, and can be sown from spring to mid-summer.
Add a little blue with a few blueberry bushes in acidic soil – that is sometimes tough to manage in your garden but very easy to manage in a patio pot.
Strawberries add a sweet red to the garden, make great snacking, a wonderful salad accoutrement.  They are a very easy perennial plant that appreciates enriched soil.
We know a lot about red tomatoes but they can also be yellow, green, orange, purple, and striped! Grow them as a patio plant or in garden soil that is enriched with compost.
Herbs such as basil, dill, cilantro, thyme, parsley, chives, mint, oregano, and rosemary can easily be grown indoors if you're limited in space, and generally produce a continual harvest. You'll need a few pots, potting soil, and a window with access to an abundance of sunlight. Herbs are rich in antioxidants and also add flavor to your foods in place of salt and added fats.
When you are gardening remember to dress to protect when you're out in the sun- wear sunscreen, long sleeves, a hat, and bug spray and be careful when lifting heavy items, make sure to take breaks and stay hydrated.
If you don't have the resources or the time to grow your own food, you can still benefit from fresh, seasonal produce by supporting local farmers markets or CSA's (Community Supported Agriculture).  Find a local Farmers Market at www.cnpp.usda.gov/KnowYourFarmer.htm. Joining a CSA is a great way to receive fresh veggies and other farm items delivered right to your home or office door. You can find a CSA near you at www.localharvest.org.
Sources: Life Work Strategies , Farmers' Almanac, United States Department of Agriculture, WebMD, MayoClinic, LifeWork Strategies EAP, and the Washington and Shady Grove Adventist Hospitals.