Homekeeping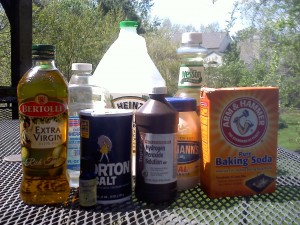 Okay, there is some scary stuff – chemicals, additives, and poisons -available for us to buy and poison our homes but we have choices that let us clean and refresh our homes and offices safely and naturally.
According to a study done at Imperial College in London, having a cleaning job is linked to adult onset asthma. "This research has highlighted a new group of people, specifically those working in occupations related to cleaning, such as cleaners or home-based personal care workers, who may have developed adult onset asthma due to exposure to chemicals they work with on a daily basis." (Malayka Rahman, Research Analysis and Communications Officer at Asthma UK).
At home we can reduce our dependence on chemical based cleaning products and make our own, natural products that clean as well, that do not harm us and leave our indoor environments clean and chemical free.  Two items we can avoid right away: air fresheners and dryer sheets.  Both of these commercially available items are known to contain carcinogens.
Check out the Sunshine Clean guide for some easy, effective recipes.  At the office share this information with the facilities manager and work to substitute natural products for chemical ones.